Spring is in the air, and in the paint color palettes! Spring is one of our favorite seasons, despite those pesky allergies. You hear the birds chirping, see the flowers blooming, feel the sun radiating — all of the lovely things that make you want to enjoy it all year round. And you can! There are some colors that make you instantly think of the season, and today we're here to share some of our favorites. Take a browse below for 5 spring paint color trends that are a must-try this year. You may just find your match made in design!
1 OF 6
1. Jojoba
Adding it to your home: If you're looking to channel the outdoors, a jojoba paint is a nice way to welcome it into your home. We love how warm, yet soothing, this green hue brings a sense of freshness to the room, just in time for season. The shade also adds a bit of cheerfulness that'll welcome guests with open arms.
Where to buy: Behr
2 OF 6
2. Marigold
Adding it to your home: A sunny marigold is the love child of orange and yellow. Not only is it the perfect accent wall color, but it also pairs beautifully with other nature colors. It'll add warmth to your space without being too bright or loud. While it was the hottest color in 2019, marigold continues to reign in as one of our favorite spring paint color trends.
Where to Buy: Benjamin Moore
3 OF 6
3. Arizona Dust
Adding it to your home: Peaches, soft corals, and pink beiges bring a sweet freshness to a room. It'll give the interior a soft radiance that is light & bright cozy vibe. And a bit of Bohemian flair!
Where to Buy: Valspar
4 OF 6
4. Mediterranean Sky
Adding it to your home: Blue is one hue that will never go out of style. This shade can work in traditional, modern and eclectic decorating styles. Adorn your walls with this crisp, ethereal blue for a refreshing look.
Where to Buy: Benjamin Moore
5 OF 6
5. Rosy Peach
Adding it to your home: Another warm tone we can't get enough of is rosy peach. If you think orange is a little too bold for you, opt for this dark peach color instead, as its pink undertones give it the right amount of playfulness.
Where to Buy: Benjamin Moore
6 OF 6
6. Taupe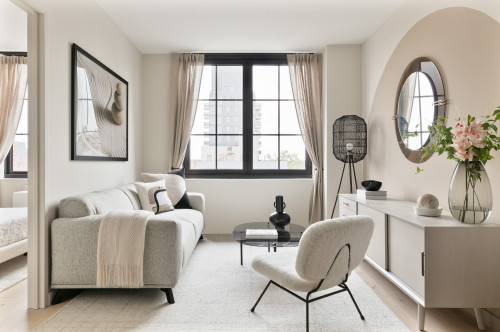 Photo by The New Design Project
Adding it to your home: Deciding on the right neutral paint color often feels like you're a kid in a candy store. There are so many different options to choose from: whites, greys, browns, the list goes on. And while it may not be your first choice for a spring color, a muted taupe is the ideal addition to brighten up a room. It's very practical and can be complimented with soft yellows & oranges for this season and deep blues & greens for the colder months.
Where to Buy: PPG